In a bold move to bolster India's startup ecosystem, the Software Technology Parks of India (STPI), in collaboration with The Indus Entrepreneurs (TiE) Delhi-NCR, has launched the LEAP AHEAD initiative. This transformative program aims to identify, nurture, and accelerate the growth of 75 startups, providing them with funding, mentorship, and market access. With a focus on inclusivity, the initiative targets entrepreneurs from tier 2/3 cities, emphasizing the untapped potential beyond traditional tech hubs.
The LEAP AHEAD Initiative: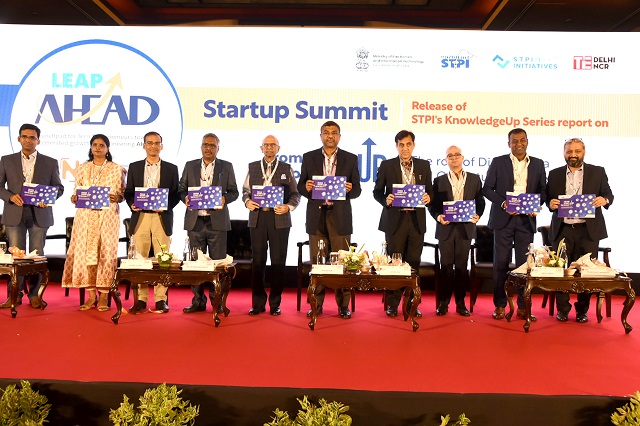 The LEAP AHEAD initiative is a game-changer for startups in various stages of development, including scaling, growth, product diversification, and geographical expansion. Offering funding support of up to ₹1 crore, the program also includes a comprehensive three-month mentorship program, combining virtual and in-person sessions for a holistic learning experience.
The program's emphasis on mentorship and co-investment reflects a strategic shift from merely launching startups to ensuring their foundational strength. Arvind Kumar, Director General of STPI, highlights the importance of focusing on entrepreneurs from tier-2 and tier-3 cities, indicating a commitment to addressing challenges such as funding, mentorship, regulatory hurdles, product-market fit, and customer identification.
Partnership with TiE Delhi-NCR:
The collaboration with TiE Delhi-NCR adds significant value to the initiative. Dr. Saurabh Shrivastava, Chairman Emeritus, TiE Delhi-NCR, emphasizes that beyond funding, TiE is providing crucial mentoring and market access. Drawing on the experience of successful entrepreneurs, TiE aims to guide the selected startups to scale and grow successfully.
Alok Mittal, President of TiE Delhi-NCR, aligns the LEAP AHEAD initiative with TiE's mission of fostering ecosystems. The plan is not only to mentor 75 companies but also to secure funding for about 15 of them. Moreover, TiE intends to take these showcases to over 30 cities, expanding the impact of the initiative.
Strategic Focus Areas:
The LEAP AHEAD initiative strategically addresses key areas crucial for startup success. It enables startups to establish a product-market fit, identify customer segments, develop growth hacking strategies, ensure business compliance, recruit leadership, and facilitate fundraising. By focusing on these foundational elements, the program aims to create a robust and sustainable ecosystem for startups in India.
National Importance and Global Aspirations:
The launch of the LEAP AHEAD initiative reflects a broader vision for India's startup landscape. Secretary MeitY, S Krishnan, underscores that India has evolved into a global capability and R&D center, offering a unique opportunity for entrepreneurs. He emphasizes the need to tap into the potential of youth in smaller cities, fostering a spirit of entrepreneurship.
Sushil Pal, Joint Secretary, MeitY, acknowledges the success stories of Indian startups and highlights the need for addressing challenges faced by the ecosystem, such as access to funding, mentorship, and regulatory hurdles. He introduces the Startup India Seed Fund Scheme as one of the government's efforts to support startups in overcoming these challenges.
Prem Kumar Barthasarathy, our Managing Partner, delivered a compelling Special Address at the LEAP AHEAD Startup Summit, sharing insightful perspectives at the crossroads of innovation and investment. His words resonated, affirming our unwavering dedication to nurturing and advancing growth within the dynamic startup ecosystem.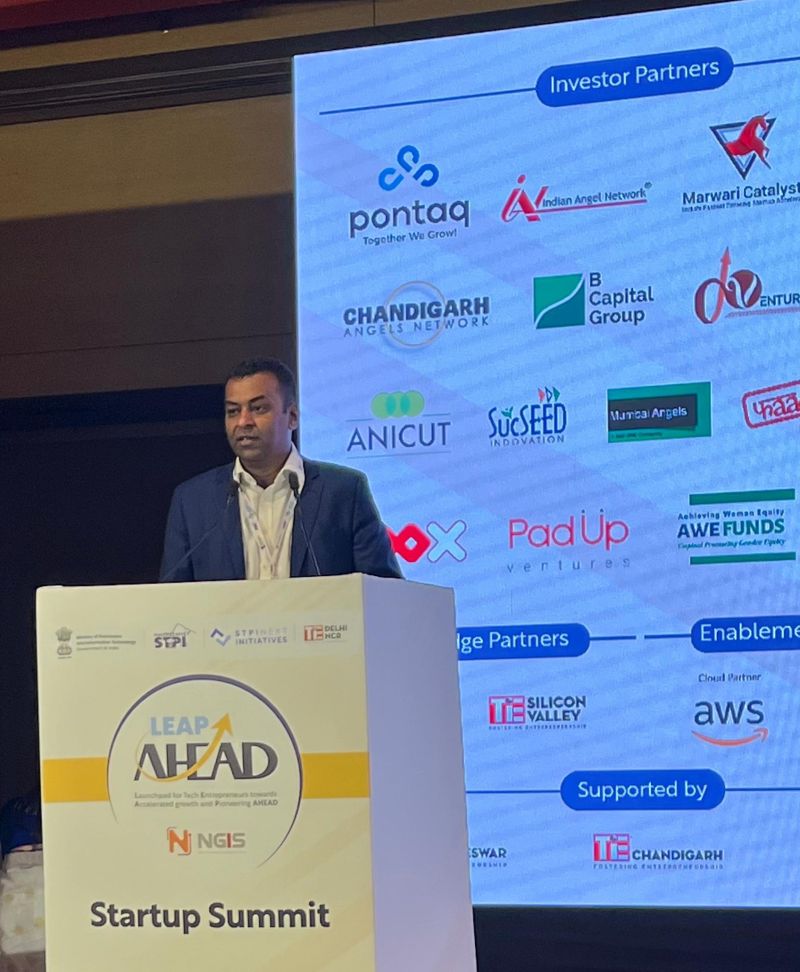 Challenges and Opportunities:
While acknowledging the success of Indian startups, concerns about funding drying up across key sectors have surfaced. However, IT Secretary S. Krishnan remains optimistic, emphasizing India's size as a factor that can help startups go global. He suggests that by expanding the reach of capital providers throughout the country, investors can uncover new opportunities and contribute to the growth of startups beyond traditional hubs.
The STPI report launched during the event advocates for a broader approach to investment, not only in terms of geography but also in sectors such as leveraging rural populations, addressing the emerging demand for cybersecurity, and focusing on 'workforce enablement.' The report emphasizes the importance of involving more women in startups and encouraging entrepreneurs from tier-2 and tier-3 cities.
Conclusion:
The LEAP AHEAD initiative stands as a beacon for India's startup ecosystem, signaling a shift towards a more inclusive, mentorship-driven approach. By addressing the fundamental challenges faced by startups and leveraging the expertise of successful entrepreneurs, this initiative has the potential to transform the landscape for startups across the nation. As the program unfolds, it holds the promise of not only nurturing the next generation of successful startups but also fostering a culture of entrepreneurship in smaller cities, thus contributing to the growth and innovation of the Indian economy.
Source Article:
https://www.thehindu.com/incoming/as-funding-winter-prolongs-govt-startup-funding-returns-to-basics/article67503743.ece
https://economictimes.indiatimes.com/small-biz/sme-sector/stpi-launches-initiative-for-startups-to-get-access-to-investment-mentorship-global-connect/articleshow/105029641.cms
https://www.financialexpress.com/business/digital-transformation-stpi-launches-leap-ahead-initiative-for-startups-3299130/
https://startup.outlookindia.com/sector/policy/stpi-and-tie-delhi-ncr-unveil-leap-ahead-initiative-to-help-start-ups-news-9806